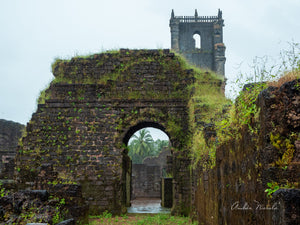 Church of St. Augustine
Built in the beginning of the 17th century, the Church of St. Augustine crumbled due to disrepair during the middle of the 19th century.
According to ancient photographs and writings, the church was built with red laterite and said to have a four-leveled structure, a magnificent vault, four altars, a convent, and eight chapels with four towers at the periphery.

Not only was it Goa's largest church for a considerable number of years, is believed to have been amongst the greatest cathedrals of the Renaissance era.
What you above is all there's left of the magnificent 46 meter tall towers.
I knew all this when I went to photograph the place. What I didn't know, is that the church and I would be alone together that day.
Just as I parked the car, down came the rain. And it went on for over an hour. Hence, no other visitors.
Blessing the rain, and intrinsically thankful for the weather sealing on my camera, I wandered around looking for the best way to tell the church's story (and not show it as a desolate ruin). An hour later, in the pouring rain, I stood right here, look up, and had the shot I'd been vying for.
And I absolutely love the effect that the rain brought to the photo.
Polite Reminder: Image quality has been reduced to optimise loading time. Prints and downloadables will be pin-sharp though!
Need Help Choose Your Print Configuration?
"Condition" Options
Bare Print:

All prints on Paper are sent "bare" - you'll receive just the paper the photo's printed on, rolled up and sent to you. You will need to get the print framed later as per your preferences.
This gives you complete freedom to choose the size and colours of the outside frame, as well as those of the mounting (the cardboard strip between the frame and the photo itself).
Ready To Hang:

Canvas provides a rich, textured feel to photos (more than any paper ever can). There's more depth, more dimension, and an instant painting-like aura.  
All prints on Premium Canvas are sent mounted on an internal wooden frame at the back (called a Stretcher). The canvas is stretched over it  and pasted. I also have the canvases coated with a superior lacquer so that the canvas is impervious to water and dust, and will last for decades. 
So, you can simply hang the Canvas on your wall, with no real need of framing (unless you prefer it framed!)
Choosing Between Bare Prints and Ready To Hang!
Choose Bare Prints if:

You're gifting the photo to someone whose tastes and home decor are unknown to you.
Or, if you're sending this to someone overseas (shipping costs will be lower).

Choose Ready To Hang if:

You want to put the photo up the moment you receive it from me!
Want to save money (there's no real need to frame, remember).
You want to see the photo from every angle (no reflections from glass!)
You're buying for your own or parents' home, or as a gift for someone special!
If you live in an area that has very high humidity.
Need Help Choose Your Print Configuration?
Hello! I know choosing from amongst the different option of prints can be a little confusing. Let me try and help!

"Size" Options
Obviously, the size you choose depends on the amount of space on the wall. However here are some helpful tips:
16x12: Starter photos - for you to get a firsthand experience of print quality as well as to start off on your art-collection journey. Size wise, these are appropriate for smaller spaces especially areas that you spend a lot of time in. Office desks, the kitchen, or even work desks at home. When you can see them near, you'll find yourself transported to the photo's location! 
20x15: 

Good for crowded walls, or nooks that may have narrow walls. Ideally you should have standing space near the area, so you and the family can see it up close. Ideal for gifting to acquaintances especially whose house you haven't yet seen. 

24x16: For larger and/or emptier walls. While this size doesn't dominate the wall, however it does revel with some elbow room around the frame! You can enjoy this standing about 3 feet away. This is the ideal size for gifting to the family - it's not too large, nor "tiny".
36x27: Usually these are "Feature" prints - alone on a wall, with light falling from the front. These are easily visible from 4-6 feet away. Don't be surprised though, if they become the topic of conversation often, when you have friends over. Your eye too might wander to it, as you sit anywhere in the room, sipping your chosen beverage!
It's important to consider that all Paper prints will grow in size, once framed. Remember to head over to the Framing tab below, to check how much expansion to plan for. 
Need Help Choose Your Print Configuration?
"Material" Options
I use the best available materials for my prints to showcase them in the best avatar possible. To choose from the three options available, consider:
Paper: A high quality specialty paper, chosen for its abilities to absorb ink, lock in vibrant colours and its longevity.
Premium Paper: A beautiful quality German paper, built to last years without discolouration.
Cellulose based, this paper portrays colours in their natural tone, assuring true representation of the vista I actually captured.
Use this for home (if there's not much moisture or for gifting the office crowd).

Neither of the paper variants come with any coating on the print side; so they must be protected by a glass front, and be properly framed for longevity.
Both Paper options come only on Matt paper. I prefer not using Glossy stuff, to minimise reflections and distractions.
Premium Canvas:

 The most exquisite look for a photo is achieved through a 320 GSM German canvas. Well

 suited for landscape and nature photos. Canvas converts the "flat" look of any photo, into a 3-dimensional look, thanks to the texture and undulations of the material; hence on Canvas, most photos appear like paintings.

Texture and colour representation is just a joy to behold. If you want your beloved photo to last forever, and to be the truest representation of what the scene actually was like when the photo was taken, print on Premium Canvas!

A canvas print can be put up on the wall directly - with or without an outside frame or even protective glass!
* Archival quality materials are available too. Ask my for those by clicking here.
Archival quality implies a material that is built for long-term contact and to withstand deterioration from environmental elements; these materials also have minimal loss of quality during printing. 
Need Help Choose Your Print Configuration?
"Framing" Options
Bare Prints:
These prints are will need to be framed immediately; in fact please do not unwrap/unroll the photo yourself. Let the professionals handle it!
While framing, I recommend you have have the framing vendor paste the photo on either a "double mount" or at least on a flex board at the back of the print, (along with a suitable mount on the front).
Any Paper print will require 4-5 inches additional to the size of the print you choose here. Normally a "mounting" insert is put, that appears between the outside frame and the photo itself. That is anywhere from 1-2 inches. Then of course, there's the outside frame itself, which is usually 1.5-3 inches depending on preference.
I highly recommend you use matt-finished glass or an acrylic sheet - not the regular glossy, reflective glass. This will help you enjoy the photo without reflections, and from any angle in the room!
Prints will be sent rolled up in a cylindrical packing tube.
Paper is extremely prone to wrinkles/creases; hence please minimise the number of people and the times that roll is taken out of the packing tube!
Canvases
The way I'll be sending you canvases, they can be put up on the wall "as-is" - with or without an outside frame!
Given the cost and the longevity you'd desire from the print, you could decide to put it behind glass! In that case, plan for 4-5 inches additional to the size of the print you choose here - for the mounting + the frame.
Never paste a canvas on anything! J
Canvases will come packed in flat boxes.